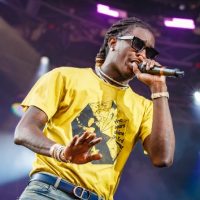 Mark Horton/Getty ImagesYoung Thug is the gift that keeps on giving.
Barely a week since the release of his debut studio album, So Much Fun, Thugger has revealed that he intends on delivering even more new music to fans. In his new cover story with The FADER, the Atlanta phenom shared that he is gearing up to release his next solo effort titled Punk.
While he was mum on the details of the project, Thug described the forthcoming LP as "touching."
"It's music that the world is going to embrace," "The London" rapper explained. "[Punk] means brave, not self centered, conscious. Very, very neglected, very misunderstood. Very patient, very authentic."
Furthermore, the eccentric lyricist hopes to inject "real rap" into the genre once again with the impending release.
"I just want to open up," Thug told the publication. "Let people know that I'm not just a rapper, I'm a human being. Let people know whatever they go through, I done been through or somebody done been through it."
If the YSL Records founder is in fact a man of his word, fans can expect Punk to arrive before 2019 closes. In addition, Thug is also readying a sequel to his critically-acclaimed Super Slimey mixtape with special guest spots from Future, Lil Baby and Gunna.
Copyright © 2019, ABC Radio. All rights reserved.