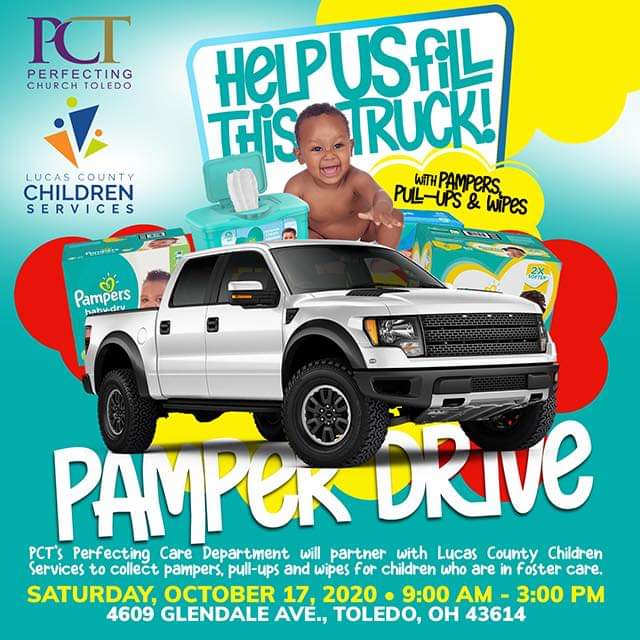 The Perfecting Care Department of Perfecting Church Toledo and Lucas County Children
Services presents a 'Diaper Donation Drive Thru!'
The event's theme is, "HELP US FILL THIS TRUCK!" The event will take place on Saturday,
October 17, 2020, 9am-3pm at Perfecting Church Toledo located at 4609 Glendale Ave, Toledo,
Ohio 43609.
The goal is to receive enough donated items of any brand of pampers, pull ups and wipes to fill
the back of a pick-up truck.
All of the donations will benefit the families of LCCS.
Thanking you in advance for your support.
Perfecting Church Toledo, "Where Ministry Means People"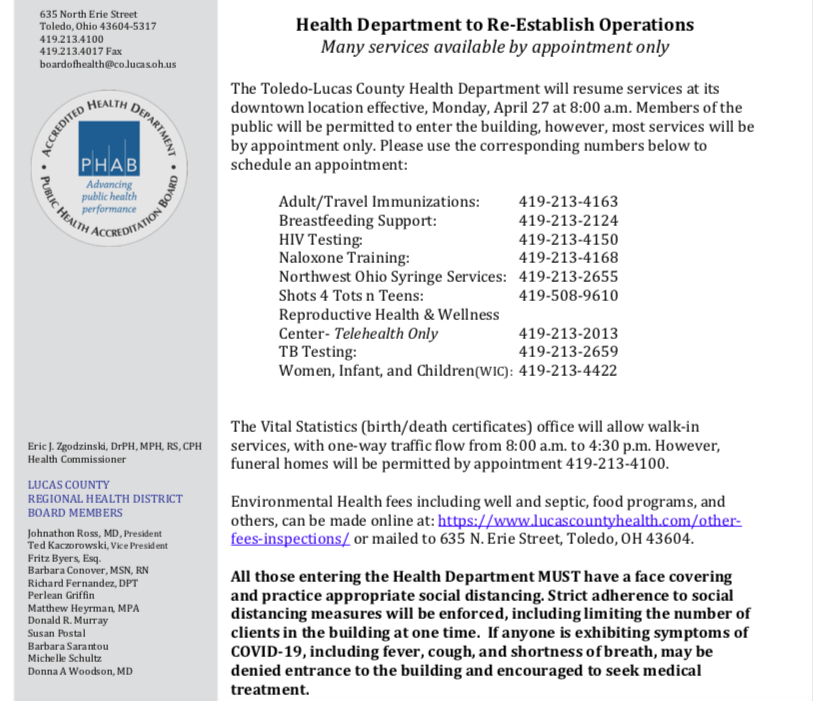 Toledo-Lucas County Health Department
City of Toledo
Board of County Commissioners MEDIA ADVISORY
April 22, 2020
Lucas County's Long-Term Care Facility COVID-19 Current Case Count
These case counts reflect current cases of COVID-19 among facility staff and residents as reported to the Ohio Department of Health as of April 22, 2020. These totals do not include patients or staff who have recovered or passed away prior to this report. Moving forward, these numbers will be updated as indicated by ODH on the Long-Term Care Dashboard each Wednesday at 2:00 pm.
| | | | |
| --- | --- | --- | --- |
| | | | |
| | | | |
| | | | |
| | | | |
| Park Terrace Nursing and Rehabilitation | | | |
| Foundation Park Alzheimer's Care Center | | | |
| | | | |
| The Gardens of St Francis | | | |
| | | | |
| | | | |
| | | | |
| Otterbein Skilled Nursing and Rehab Monclova | | | |
| Genascross Lutheran Services | | | |
| Northwest Ohio Developmental Center | | | |
| | | | |
| --- | --- | --- | --- |
| | | | |
| | | | |
| | | | |
| Spring Meadows a Villa Center | | | |
| Divine Rehabilitation and Nursing at Sylvania | | | |
| Heatherdowns Rehab and Residential | | | |
| | | | |
| Kingston Residence of Sylvania | | | |
| Continuing Healthcare of Toledo | | | |
| ProMedica Goerlich Center | | | |
| Addison Heights Health and Rehab Center | | | |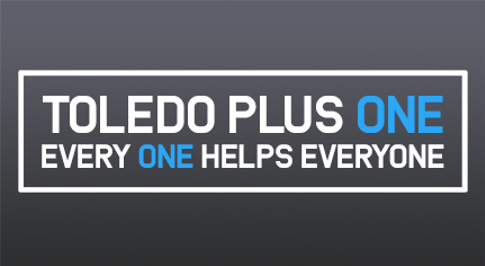 Toledo Plus One: A Glass Roots Movement to Support Local Frontline Heroes and Restaurants
Join us in taking a "plus one" to lunch or dinner. But not just any plus one – a local front-line healthcare or first responder hero.
Donations are now being accepted through a fund organized by Greater Toledo Community Foundation. Donations will provide meals to Northwest Ohio's first responders, including hospital workers, firefighters, and police officers while supporting some of The Glass City's most beloved local restaurants.
Current participating restaurants: Mancy's Steakhouse, Mancy's Italian, Mancy's Bluewater Grille, Shorty's, Stubborn Brother Pizza, Souk Mediterranean, The Beirut, Ciao!, The Real Seafood Co., Zia's, and The Chop House. More restaurants may be added depending on the success of this initiative.
Meal delivery to be provided by Yark Automotive Group.
Every dollar makes a difference. We all love Toledo. Let's prove what we can do together. Donations can be made at https://toledoplusone.com/
For more information on Toledo Plus One, contact anniebaymiller@gmail.com or visit toledoplusone.com

Health & Wellness Center Launches New Telehealth Services in Response to COVID-19
Public Health services available by appointment only
The Reproductive Health and Wellness Center (RHWC) at the Health Department announces today, in response to the COVID-19 pandemic, will offer virtual health visits (telehealth) to patients. With Ohio residents asked to stay home and discouraged from making nonessential trips, many patients have been unable to access the care they may need. The Health Department'sRHWC team has worked around the clock to implement a new telehealth program and will start virtual visits via telephone only, on Monday, April 20, 2020.
Telehealth services will be available on Mondays and Fridays, from 8:00 am to 1:00 p.m., by appointment only. Those in need of an appointment are asked to call 419-213-4209, provide contact information and an appointment time will be confirmed once a RHWC employee returns a call. Walk-ins are not permitted during this time.
"Existing patients, new patients, those who may be engaging in risky behavior, have the access to care and information they need, now throughtelehealth," said Dr. J.A. Smith, Medical Director. "We want to ensure those patients with the greatest need, have access to care, while reducing the risk of exposure to COVID-19 through social distancing efforts."
Additionally, the childhood immunization program, Shots 4 Tots n Teens, will be operational throughout the month April on Tuesdays and Thursdays from 8:00 a.m. to 12:30 p.m also by appointment only. Please call 419-508-9610 to schedule a Shots 4 Tots n Teens appointment, walk-ins are not permitted at this time.
The Shots 4 Tots n Teen phone number provided in the previous press release was incorrect. The above information has been updated to reflect the correct phone number.
The supplemental nutrition program for Woman, Infants, and Children (WIC)at the Health Department's downtown location, will start to operate Monday through Thursday from 8:00 a.m. to 2:00 p.m., by appointment only. Please call 419-213-4422, for any questions regarding WIC benefits.
Coronavirus Disease 2019
COVID-19 Ask the Expert: Anthony J. Armstrong, M.D., MPH, FACOG, President of the Ohio State Medical Association on Minority Health
Protecting Against COVID-19
The Ohio Department of Health sat down with Anthony Armstrong, M.D., MPH, FACOG, president of the Ohio State Medical Association, to discuss COVID-19 and minority health. Dr. Armstrong has shared his expertise on this important topic.
Dr. Armstrong, a board-certified OB-GYN in private practice, has served as medical director for specialty care and obstetric services of Bon Secours Mercy Health in northwest Ohio. He previously worked at Mercy St. Vincent Medical Center where he held various roles including chairman of the OB-GYN department, director of medical education, and chief of staff. Dr. Armstrong is a past president of the Toledo and Lucas County Academy of Medicine.
Q: The information at this point is largely anecdotal across the country but it appears the COVID-19 fatality rate is disproportionately impacting the African-American and Latino communities. Why do you believe this may be the case?
A: As you said, the information is largely anecdotal but from the start of this crisis, before coronavirus took hold in the United States and before it became global pandemic, there was a myth among many in the African-American community, in particular, that Black people could not get this virus or, worse, die from it.I'm sure that mentality exists in Ohio and it has to change.
Q: With April being Minority Health Month, where might that myth or mentality be rooted?
A: Dating back many generations in our country, many African-Americans have always held a general distrust of the medical system and a distrust that medical professionals had their best interest and besthealth in mind. That mentality is rooted in our country's prior history of racial inequality. However, without
question, things are better now but these are myths and long-held beliefs that have not fully subsided.
Q: Should individual states, or the federal government – in particular, the Centers for Disease Control & Prevention (CDC) – track COVID-19 data according to race and ethnicity?
A: Absolutely. Because if this virus is truly spreading disproportionately among minority communities across the country then it is likely true here in Ohio, as well. We need this data to better understand how the virus spreads and to develop more effective strategies to mitigate the spread while we continue to
For more information, visit: coronavirus.ohio.gov
develop effective ways to treat this disease for those who are already sick or will become sick. It's clear, we've seen significant spikes in cities with higher minority concentrations – New York, Detroit, New Orleans, and Chicago. And Ohio, as we know, also has large American cities with higher concentrations of minorities which could warrant our attention.
Q: We know that this virus has a more devastating impact on individuals with other underlying conditions. Could that be a factor in what we are seeing the minority communities?
A: Yes, to the point that I addressed earlier. African-Americans, for example, have higher rates of diabetes, asthma, high blood pressure and other public health ailments and statistically we are less likely to regularly see or be under the care of a physician. African-Americans live with these public health conditions for a longer period before getting medical care, which could exacerbate our overall care. What we know about
COVID-19 is that if your body is already weakened by other severe medical concerns then this virus is likely to have a more devastating impact on you.
Q: If there was concern before about seeing a doctor, it's likely heightened during this pandemic.How can we be sure minorities and others are still seeking medical care?
A: One thing we are learning to use more where I work, and I know this is true for physicians across Ohio, is telehealth. This allows us to consult with our patients face-to-face via computer, laptops or smartphones. And if you do not have video capabilities, then you need to know that we can still provide effective care via a telephone call. What are your symptoms? How are you feeling? What is your prior medical history? These are all questions that can be answered via telehealth and help us as physicians provide a necessary level of care. Telehealth has the potential of remaining a significant part of the medical delivery system long after we have defeated COVID-19.
Q: What is the message we must convey to the minority communities?
A: The message is no different than what you and Gov. DeWine have effectively and appropriately communicated for more than a month. Without a vaccine or known cure, our most effective strategy is to win the war against the spread of the virus which buys healthcare professionals and medical scientists more time to work on effective treatments and cures that will save lives. I implore all Ohioans – regardless of your race or ethnicity – to adhere to the 'Stay-At-Home' and social distancing orders and if you aretraveling to Ohio from outside our state, please be courteous and self-quarantine for at least 14-days
before interacting with others.
Might I add, I also believe that we in the medical profession can also do more to be sure that we make our services more accessible and inviting. We have to look for ways to make healthcare more accessible to everyone, especially those who the most vulnerable among us. We know that early intervention of care can significantly lower the chances of chronic medical care later.
For more information, visit: coronavirus.ohio.gov
Q: Thank you, Dr. Armstrong. That is an especially strong message given that our friends in Michigan are experiencing an outbreak and strain on their healthcare system in Detroit. Detroit is very close to your city of Toledo. What concerns do you have about what is occurring in Detroit?
A. You are correct, our proximity to Detroit is a concern. I have colleagues and friends in the medical profession who work both in Ohio and Michigan or live in one state and work in the other. Our proximity to Detroit means it is a normal, daily occurrence for people to straddle the line and go back and forth between the two cities, two states. My message would be as I stated before: Please respect our 'Stay-At-Home' and social distancing orders and please self-quarantine. Let's all assume that we have the virus and must act in ways so not to infect our dearest loved ones.
Q: And while we as physicians and healthcare professionals are doing what we always trained to
do, this pandemic has been hard for you and your colleagues, as well, hasn't it?
A: Yes and thank you for that question. If you work in the medical profession then you trained and gained experience for just these types of moments. But, like the people we care for and our neighbors, we, too, have families. We're employers, so we employ individuals who depend on jobs we provide for their livelihood. Those of us who have still been able to see patients during this crisis worry everyday about being infected and then unknowingly bringing it home to our families.
As president of the Ohio State Medical Association, I've assured that we remain a resource for physiciansacross Ohio, providing regular updates and information about ways to help medical professionals stay safe and still be able to provide high-quality care for our patients.
Q: Final thoughts?
A: Just to reiterate the messages that have already been encouraged. Practice good hygiene. Stay home. If you have to go out, practice social distancing. Be kind to one another. This is a significant challenge for healthcare but it is not insurmountable. I truly believe that most Ohioans are adhering to these rules and guidelines and are truly making a difference in our efforts as medical professionals to combat this virus.
And, finally, I want to send a special thank you and gratitude of appreciation to all of my physician colleagues, nurses, and other medical professionals on the frontlines of this pandemic.
For additional information, visit coronavirus.ohio.gov.
For answers to your COVID-19 questions, call 1-833-4-ASK-ODH (1-833-427-5634).
If you or a loved one are experiencing anxiety related to the coronavirus pandemic, help is available. Call the Disaster Distress Helpline at 1-800-985-5990 (1-800-846-8517 TTY); connect with a trained counselor through the Ohio Crisis TextLine by texting the keyword "4HOPE" to 741 741; or call the Ohio Department of Mental Health and Addiction Services helpline at 1-877-275-6364 to find resources in your community.
For more information, visit: coronavirus.ohio.gov
ORGANIZATIONS ARE STEPPING UP TO HELP OHIOANS VOTE-BY-MAIL

We're #InThisTogetherOhio

COLUMBUS – Today, Ohio Secretary of State Frank LaRose announced a list of community partners around the state that have joined together to help registered voters get the resources they need to vote-by-mail in the 2020 primary election. These organizations are working hard to educate voters, provide vote-by-mail applications to their specific audiences, and build awareness of Ohio's vote-by-mail primary election.

"Throughout this crisis, Ohio has once again cemented its place as a national leader," said LaRose. "We're at our best when we work together, and these organizations have stepped up to make sure Ohioans will have their voice heard."

Secretary LaRose and his team have long embraced a model of cultivating relationships outside of government in order to strengthen civic engagement, and this is certainly no exception. Organizations interested in helping with the effort to help Ohioans vote-by-mail should contact Secretary LaRose's Director of Community Engagement and Initiatives, Monique Cox Moore, at MMoore@OhioSoS.govor (614) 254-4057.

Dear Community Partners, Residents, and Businesses,
We are in an unprecedented time of challenge for Toledo and Lucas County. Governor DeWine has issued a "stay at home" order that requires all Ohioans to stay at home, and limit trips outside the home to essential work and errands. It is important that we take this order seriously to stop community spread of COVID-19. We are at a critical point in our fight to stop the spread of this virus, and we must follow the governor's order.
I am reaching out to you and to all community partners who play a significant role in ensuring critical information is disseminated. Please share the details below while adhering to the state's "stay at home" order and social distancing guidelines.
COVID-19 Questions and Help
The 24/7 Lucas County Community COVID-19 Call Lines Numbers are: 419 251-4000 (English only) and 419-291-5355 (multilingual).
The Ohio Department of Health website is www.Coronavirus.Ohio.Govand the Ohio Department of Health hotline is 1-833-4-ASK-ODH. (1-833-427-5634)
TELEHEALTH: Every health system in Lucas County is expanding access to TELEHEALTH programs. Please check with your insurance provider about ways you can see your doctor for non COVID-19 related items while not having to leave your house.
United Way 2-1-1 is a free, 24/7 health and human service referral resource available to all residents across Lucas, Wood, and Ottawa County. This non-medical, non-emergency system can connect community members to thousands of resources pertaining to food assistance, housing / shelter, employment, clothing, utilities, etc. You can connect with 2-1-1 by dialing two, one, one; text your zip code to 898-211; instant message by visiting www.211nwo.org.
Senior Citizens: Contact the Area Office on Aging of Northwestern Ohio at 419-382-0624 or by email at adrn@areaofficeonaging.com, or visit www.AreaOfficeOnAging.com for information, if you know of someone who is in need of assistance, or for details about service availability.
Toledo Public Schools is offering free meals for students between 11 a.m. – 1 p.m., Monday through Friday at Jones Leadership Academy, Bowsher High School, McKinley/DeVilbiss, Rogers High School, Scott High School, Start High School, Waite High School, and Woodward High School. It is a drive through service and parents must call 211 to reserve. More information at https://www.tps.org/discover-tps/news/2087-tps-to-continue-to-serve-meals.html
Business Resources
Public Assistance Programs
The Ohio Department of Job and Family Services received approval for waivers from the federal programs administered in Lucas County.
SNAP recertifications have been suspended for the months of March, April, and May and benefits set to be redetermined during that period will be extended for six months.
ABAWD requirements have been waived until one month after the end of the state of emergency.
Additional SNAP dollars will become available for those receiving benefits. More details to come.
Information for unemployment benefits, which allows for online 24 hours a day, seven days a week, is at unemployment.ohio.gov. It is also possible to file by phone at 877-644-6562 or TTY at 888- 642-8203, Monday through Friday 8 a.m. to 5 p.m. Employers with questions should email UCTech@jfs.ohio.gov.
All City of Toledo points of access for customer service are closed. Here is a list of city and other services affected by COVID-19:
Water
The city of Toledo will not shut off water service for nonpayment while we are working to prevent the spread of COVID-19. We will reconnect water service to any occupied residence in the Toledo service area that has been disconnected previously for non-payment. If you need your water service turned back on, please call Engage Toledo at 419-936-2020.
All late fees for water bills have been suspended.
City Taxes
The city of Toledo is developing a plan to extend the deadline to pay city taxes.
Code Enforcement
Continue to call Engage Toledo at 419-936-2020 to report code violations such as illegal dumping.
The city will issue appropriate orders for high priority violations. Lower priority items will be held until after the stay-at-home order is lifted. The city will not issue violation notices unless it is a high priority. (High priority items include life safety issues, requests from Toledo Fire and Toledo Police, unsecured structures, immediate collapse or imminent danger, fire, emergency demolitions, and compromised structural integrity.)
Trash and Recycling Pickup
Trash and recycling pickup will continue as usual. Any questions on collection, please call Engage Toledo at 419-936-2020.
Landfill
The City of Toledo's Hoffman Road Landfill is closed to the general public until further notice. Alternatives for waste disposal include:
Brooklyn North Recycling, 4242 Creekside Ave., which will accept construction and demolition debris, 8 a.m. to 3:30 p.m., Monday through Friday. Call 419-476-0655 for pricing and details.
Republic Services', Vienna Junction Landfill, 6196 Hagman Rd., which will accept construction, demolition debris, and household trash from Toledo residents. Call 419-726-9465 for hours and pricing.
Waste Management – Evergreen Recycling and Disposal Facility, 2625 East Broadway, Northwood, Ohio 43619. Call 866-909-4458 for details, hours, and pricing.
Building Inspections
Anyone who needs to file a permit or schedule an inspection should visit toledo.oh.gov/permits or call 419-245-1220.
Toledo Police
Toledo Police and Toledo Fire & Rescue Department continue to respond to 911 calls for emergency services.
When calling 911, please advise the operator if you have a known or suspected COVID-19 exposure.
We ask residents to utilize the Telephone Reporting Unit (TRU) and the online reporting system whenever possible. To contact TRU, dial 419-245-3340 and ask for a callback from TRU. You can fill out a police report online at https://toledopolice.com/online-2/obtaining-reports-3.html. Some officers will be temporarily reassigned to expand these units and shorten wait times.
Toledo Fire & Rescue
Due to the fact that Toledo Fire & Rescue is limiting public access to fire stations, those in need of a smoke alarm should contact the American Red Cross at 844-207-4509.
City Community Centers and Senior Centers
The city-owned community centers that will be closed for nonessential services include the East Toledo Family Center, the Aurora Gonzales Community and Family Resource Center, the Sofia Quintero Art and Culture Center, Friendship Park Community Center, the Frederick Douglass Community Center, and the Toledo Police Athletic League Building.
City-owned senior centers – including the East Toledo Senior Center, the Chester J. Zablocki Senior Community Center, and the Eleanor Kahle Senior Center – are closed.
Parks
Playgrounds are closed. Maintain social distancing while at any park.
Public hearings impacted by the closures
The Toledo-Lucas County Plan Commissions has postponed all hearings though the month of April.
After consultation with the U.S. Department of Housing and Urban Development, the City of Toledo Department of Neighborhoods mandatory CDBG, ESG, and HOME funds public hearings for the 2020-21 Annual Plan and the 2020-2025 Consolidated Plan have been rescheduled. The meetings scheduled for March 23 and April are canceled. New hearing dates will be released when scheduled.
Courts
Thank you,
Wade Kapszukiewicz
Mayor, City of Toledo

Opioid Addiction Hotline
If you or someone you love has an addiction to pain medications, is using these medications in a way that puts them at risk of addiction, or has an addiction to other substances there IS help available.
If you or someone you love is having a mental health crisis or is in need of someone to talk to you can text for help.
CRISIS TEXT LINE: Text 4hope to 741741 and a trained crisis counselor will text you within five minutes to confidentially assist

Signs of Overdose

Signs of overdose include the following:

No response when you shake the person or call their name
Not breathing
Slow or shallow breathing (less than one breath every six seconds)
Pinpoint pupils
No response when you shake the person or rub their sternum with your knuckles

Choking, snoring, or gurgling sounds
Blue, grey, or ashen lips and fingernails
Slow, irregular pulse
No pulse
Vomiting
Seizures