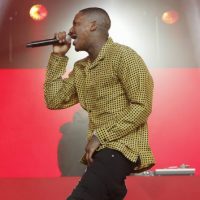 ABC/Randy HolmesYG's Los Angeles home was raided by authorities on Thursday morning in connection with a police-involved shooting in Compton earlier this month, ABC News has learned.
The rapper, born Keenon Jackson, has not been implicated in the shooting but several people were detained at the Hollywood Hills home, though none had been arrested, a spokesperson for the Los Angeles Sheriff's Department has confirmed.
The search is the result of a Cadillac Escalade, a company car registered to YG, being involved in a shootout with police in Compton on July 3, officials tell ABC. The incident resulted in the death of one bystander as well as one officer being shot during the pursuit.
"We are awaiting the finalized coroner's report before we can say for sure regarding the fatal shot," a detective told ABC News. "We don't want to speak too soon because things sometimes change."
YG, however, maintains his innocence in the matter.
"I was nowhere near the scene of this incident, I was in Hollywood recording in the studio all day," the "Go Loko" rapper tweeted on July 5.
He added: "I was there until after midnight on the 4th of July and didn't learn of these events until after they happened!"
The Los Angeles County Sheriff's Homicide Bureau will not be commenting further regarding YG or the vehicle, as this is an ongoing criminal investigation.
Copyright © 2019, ABC Radio. All rights reserved.