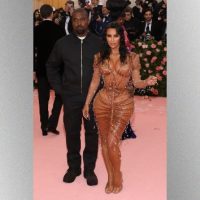 Taylor Hill/FilmMagicKanye West and Kim Kardashian are reportedly pushing for the Trump administration to intervene in A$AP Rocky's current international legal woes, TMZ has learned.
According to the outlet, the mega-producer sought his wife's help after learning of Rocky's widely condemned holding in a Swedish detention center. Ye allegedly "urged" Kim to reach out to her contacts at the White House, namely Donald Trump's son-in-law Jared Kushner, to bring Rocky's situation to the president's attention.
As previously reported, the Harlem-bred artist's arrest stems from an incident last month in which the rapper and his entourage claim they were harassed by two men on the streets of Stockholm. Despite Rocky's attempt to diffuse the situation, the alleged harassment escalated into a brawl which was captured by an onlooker, and later went viral.
The TMZ report suggests that Kushner was receptive to Kim's request and even claims Trump agreed the A$AP Mob frontman was being held "unfairly." In addition, Secretary of State Mike Pompeo is allegedly "actively working" to get Rocky from behind bars.
The news of Kim and Kanye's involvement arrives on the heels of Rep. Adriano Espailla and the Congressional Black Caucus demanding the "Praise the Lord" rapper be released. Wednesday, members of the organization called on the Trump administration to "become directly involved" in facilitating Rocky's safe return home to the states.
"We are calling on Secretary Pompeo to do more," Espaillat told ABC News. "This is not enough. It is unconscionable that young men that are doing well, they are on the right track in life, they're very successful, they're icons in the hip-hop community, are treated under these inhuman conditions."
If convicted, Rocky could be facing up to six years in a Swedish prison for assault.
Copyright © 2019, ABC Radio. All rights reserved.