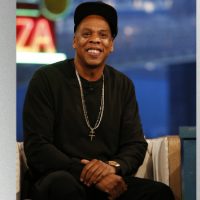 ABC/Randy Holmes
JAY-Z has been enlisted by the NFL to oversee the league's new live music entertainment offerings, as well as its social activism campaign, The New York Times has learned.
Under the new partnership, the rap mogul will serve as a "live music entertainment strategist," which will involve consulting on the Super Bowl halftime show and recruiting top tier talent to perform at league events, the Times reports.
In addition, Jay's multifaceted company Roc Nation will assist and contribute to the NFL's activism campaign, Inspire Change.
The merging of the titanic brands is an effort by the league to operate on a checks-and-balances system, in the wake of the public dissent over its handling of national anthem protests and the subsequent collusion case involving Colin Kaepernick.
"We don't want people to come in and necessarily agree with us; we want people to come in and tell us what we can do better," NFL Commissioner Roger Goodell told the Times on Monday. "I think that's a core element of our relationship between the two organizations, and with Jay and I personally."
While HOV has been especially critical of the league over the past few years, and even previously turned down their offer to perform at the Super Bowl, it appears as though he's had a change of heart.
"The N.F.L. has a great big platform, and it has to be all-inclusive," Jay told the Times of his newest venture. "They were willing to do some things, to make some changes, that we can do some good."
Roc Nation and the NFL are expected to officially announce the partnership on Wednesday.
Copyright © 2019, ABC Radio. All rights reserved.