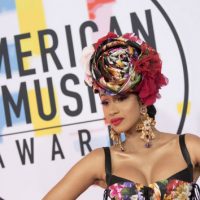 Credit: ABC/Image Group LACardi B is gifting fans with a snippet of new music, in honor of her daughter's first birthday.
Early Thursday morning, the Bronx-bred rapper took to Instagram to tease an unreleased single that she says almost made the cut for her debut album Invasion of Privacy. On the track, which heavily samples Eve's "Love Is Blind," Cardi recalls the highs and lows of being pregnant with her baby girlKulture, including the criticism she faced concerning the pregnancy's impact on her career and public image.
"Cardi you're so stupid/You're gonna ruin your career/I know I won't/But if I did, I wouldn't care," she raps over the dialed-down track.
In the accompanying montage video, we see some of Kulture's most precious moments, including drinking a bottle, enjoying a nap with her mom and being doted upon by her loved ones. Cardi captioned the Instagram post with a backstory on how the song came to be.
"It didn't make it on time tho cause you can hear I was maaa[d] stuffy with a terrible cold," she explained. "I couldn't get it right no matter how many times I spit it, even when we try to mix it, u still sound stuffy. I love my baby she changed my life."
Copyright © 2019, ABC Radio. All rights reserved.